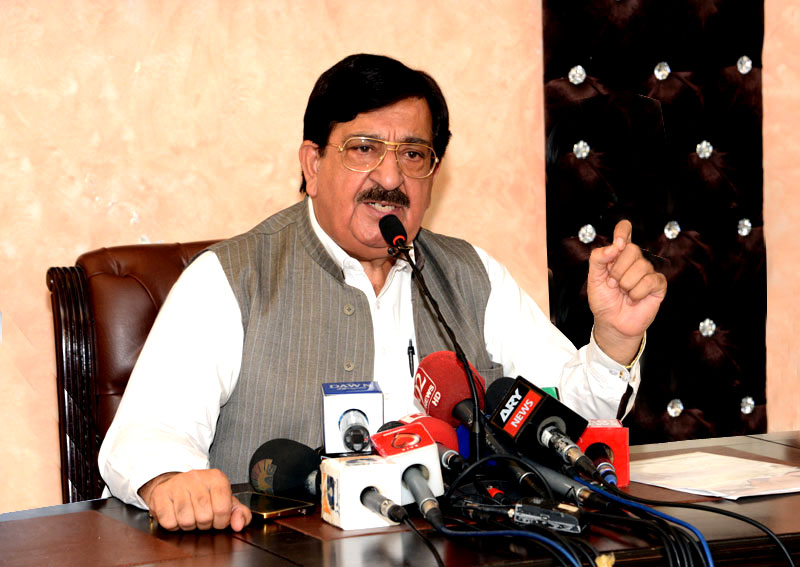 PAT Secretary General Khurram Nawaz Gandapur has said that the PAT will speed up its "change the system" (Nizam Badlo) campaign and take part in the upcoming polls under the same slogan. He said that the prime minister, foreign minister, interior minister and finance minister of the country which was achieved in the name of Islam are certified liars and other ministers are contemnors of the court. He said that it is a matter of shame that the people of low and questionable character are leading the people, adding that the people living in other countries feel ashamed in their interaction with their counterparts due to situation back in Pakistan. They are right to ask that robbers and dacoit remain in the positions of authority and the masses accept them as legitimate rulers to rule over them.
Khurram Nawaz Gandapur made these remarks while addressing a consultative meeting held to consider matters relating to the upcoming general elections. Raja Zahid and Prof Saleem Javed and others attended the meeting.
The participants of the meeting thanked the Chief Justice of Pakistan for taking suo motu notice of delay in the provision of justice in the Model Town case and ordering the trial court to hear the case on daily basis. A resolution approved on the occasion demanded that money and other privileges should be taken back from the disqualified lot and deposited in the national exchequer.
Khurram Nawaz Gandapur said that the SC's order to the sugar mill owners to completely pay the remaining dues of the sugar growers within five days is welcome. He said that the Supreme Court has shown unprecedented empathy with Pakistan's downtrodden sections of society and taken suo motu notices in public interest, leading to increase in the people's confidence. He said that the work was supposed to be done by the Parliament and politicians, the Supreme Court is having to do it because the former failed miserably to do their job.
The PAT Secretary General said that political parties in general and the PML-N in particular have exploited the people in the garb of democracy and time for all such elements to fade into oblivion has come. He asked if the Supreme Court can pass the verdict of paying sugar growers, why cannot the PM or Parliament do that? He said that the institutions whose job is to provide relief to the people are in the hands of corrupt politicians. He said that it is for this reason that the PAT workers say that as long as this system stays intact, no change will come about.