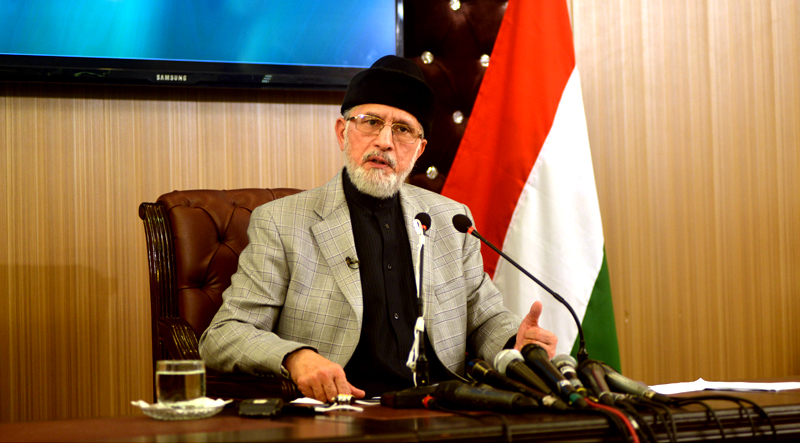 PAT Chairman Dr Muhammad Tahir-ul-Qadri has said that Pakistan has been confronted with the economic crises due to corrupt rulers. He asked the judiciary to play its decisive role for elimination of corruption and steering the country out of crises. He said that the nation continues to look up to the SC for an end to corruption, loot and plunder, supremacy of constitution and the reform of the system, stating that Allah has given a rare opportunity to get rid of the corrupt elite that should not be wasted.
Dr Tahir-ul-Qadri made these remarks while addressing a ceremony held in connection with the Pakistan Day being celebrated across the country today on March 23. He said that the rise and fall of a nation depends upon the quality of the leadership. He said that the country had honest, credible and committed leadership at the time of inception and today those occupy the positions of power who have brought this beautiful country to such a sorry pass.
Dr Qadri said that this system gave an opportunity to individuals to be strengthened at the place of the institutions; the corrupt elite bended the constitution as per will; ridiculed democratic and political norms; changed laws for personal advantage; defamed institutions; rendered the system of checks and balance hollow and the situation has come to such a pass that the corrupt elite has the gall to blackmail the institution today in an effort for self-preservation.
The PAT Chairman said that hundreds of thousands of people saw a dream of a country on March 23, 1940 in which they could get equality of opportunity, fundamental rights, equal access to state resources and services but added in the same breath that dozens of the corrupt families have decimated the dreams of the millions of people who believe in earning their livelihood through honest means.
Dr Qadri said that the PAT has been waging a peaceful struggle since 1990s. We are of the considered opinion that if this system stays intact, injustice and oppression will continue to stay as well. He said that the nation has now to decide whether they have to keep quiet on the mega corruption of the big fish or take Pakistan to the league of the developed countries in the 21st century. He said that the recent decisions of the SC seem to establish the supremacy of the Constitution. He said that if a similar decisions were continued to be handed down, Pakistan will come back on the track of rule of law.
Dr Qadri congratulated the Pakistani nation on the Pakistan Day.