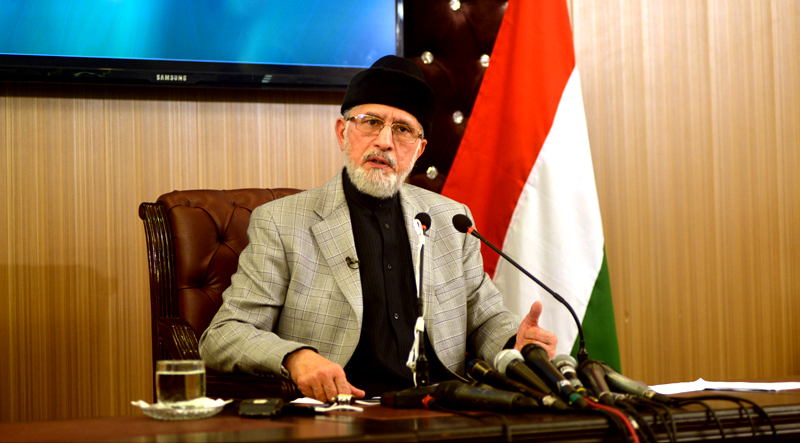 According to Core Committee of PAT, Dr Muhammad Tahir-ul-Qadri will reach Lahore on August 8 and will be accorded a warm welcome on his arrival.
The meeting of the Core Committee was held yesterday. Briefing the media after the meeting, PAT Secretary General Khurram Nawaz Gandapur said that Dr Tahir-ul-Qadri is arriving in the country by cancelling all his overseas commitments. He will announce the next course of action to seek justice in the Model Town case and press for publication of Justice Najafi Commission report. He further stated that the PAT Chairman will engage with the political allies in connection with 'Go Shahbaz Go' and 'No Shahbaz No' movement.
Khurram Nawaz Gandapur said that the Core Committee has decided to send the English version of the FIR of Model Town incident registered on the orders of the court and the videos of the massacre to the embassies and expose the culprits to the whole world. He said that it has been three years since the Model Town incident happened but the families of the martyrs have not got justice yet. He said that 100 people were shot at on the orders of the Sharif brothers, Rana Sanaullah and former IG. He said that disqualified Prime Minister is among the masterminds of the heart-rending tragedy.
The PAT Secretary General asked as to how the accused of the Model Town tragedy will plead the case of the Kashmiris and Palestinians and lobby international support for them. He said that we would knock him out well before he could take the oath of office.
He said that all political parties have supported us on the Model Town issue and we are grateful to them for their consistent support and its reiteration. He said that we have spent every day of past 3 years demanding justice and stood guard over the FIR registered on the court's orders. He said that the fear was that the FIR could be pushed under the carpet.
Other PAT leaders were also present on the occasion.