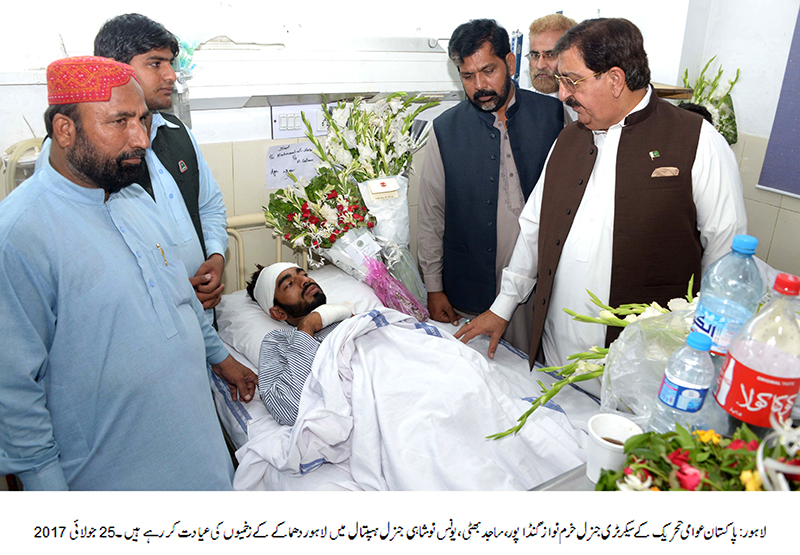 A delegation of PAT led by Secretary General Khurram Nawaz Gandapur visited the General Hospital Lahore yesterday and inquired after the health of the injured of the Lahore blast. The delegates presented the bouquets of flowers to the injured on behalf of Dr Tahir-ul-Qadri and prayed for their early recovery.
Talking to the journalists, Khurram Nawaz Gandapur said that the Lahore blast deserves to be condemned in the strongest possible words. He said that the loss of scores of innocent lives has injured our souls. He said that in addition to condemning this heart-rending incident, the government needs to be taken to task for its negligence to secure the life and property of the masses. He said that Rs. 12 billion from national exchequer were spent for implementation of Safe City Project in Lahore whose purpose was to monitor the movement of vehicles on the roads and thoroughfares so that anti-peace and anti-country elements could be kept in check.
The PAT Secretary General said that the Punjab Chief Minister has restricted his governance to lip service and statements. He said that we are of the considered view that these precious lives have been lost due to negligence of the government. He demanded that it needs to be judicially investigated as to why the CCTV cameras were not installed here under the Safe City Project.
He said that we have been saying it for a very long time that the present rulers have soft corners for terrorists and it is for this reason that they are not letting the Rangers conduct full-blown operation in Punjab; NACTA is not provided funds and the military courts are criticized. He said that the Interior Minister gets annoyed every now and then and disappears for a while before staging a come-back.
Sajid Mahmood Bhatti, Irfan Yousaf, Raja Nadeem, Younis Noshahi, Qazi Mahmood and others were present on the occasion.